Make Long URL's 2 Short URL's
---
Home
WebLinks
Gadgets
Mini Softwares
File Hosting
Score
Search
Radio
Flight
Mp3
1MB Tools
Stock
Other Sites
---
Don't you hate it when someone sends you an e-mail or chat message with an URL that looks like this:
Or comments on your blog / website that have these huge links that will screw up your website layout?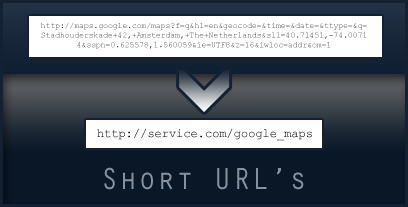 Set an example and use any of the services listed below that will make the URL short to re-direct someone to the correct website with the long URL. All short URL's lead to the main page.
Services making short URL's
URL Shortner
Example Short URL: http://shorten.07x.net/s.php?s4s
Make your long URLs into short URLs with custom tags or by default ids! Easy to remember! Get how may times clicked and reverse URL (Get URL form tag or id name).
Linkslash
Example Short URL: http://linkslash.com/site4sites
This short URL service is free to use and you don't have to register to use all of it's functionality (except URLs editing). Professional Short URL cloacking service.
Iurl
Example Short URL: http://iurl.in/3n
Using our service you will be able to replace your long links with short links and you can even know how many clicks the link got and from where the clicks are coming from with date and time as well and the best of all it is FREE!
Fff.to
Example Short URL: http://fff.to/Ot
Short and handy redirection URLs. Referral links hiding. Full statistics of your redirect link usage. Traffic distribution system. Easy link management. Completely free of charge. Registration is NOT REQUIRED
Get-shorty
Example Short URL: http://get-shorty.com/shorty/co/s4s/
Shorty is a simple tool for creating shorter, human- readable links from long URLs. You install Shorty on your server, so the links you create with it never go away. You can also manage your links and see how often people click on them.
Urlpass
Example Short URL: http://urlPass.com/3uwp
urlPass is a free service that allows you to dramatically reduce the length of long and cumbersome URL's (otherwise known as web addresses or links).
ElfURL
Example Short URL: http://elfurl.com/ao18d
We make giant URLs shorter. Some say our elves make the smallest URLs around. Our URLs aren't 'tiny' but they're certainly small. Why use our elves? They provide free stats – that's why!
BudUrl
Example Short URL: http://budurl.com/cpqg
BudURL was designed from the start to give small businesses and marketers insight into previously invisible click traffic. Not everyone has access to Google Analytics and most of those that have it don't know how to use it. BudURL makes link tracking amazingly simple. Shorten the link, put it somewhere, and watch the clicks roll in. It's that easy!
URL.ie
Example Short URL: http://url.ie/vve
Welcome to URL.ie, a free URL truncation service. Generate a short URL for your unsightly long one, and share that URL with others, who get automatically forwarded to your original URL, with no temporary redirect pages / ads / popups / cookies.
Jmp2
Example Short URL: http://jmp2.net/j7R
Jmp2.net is a tool to make URLs smaller and easier to pass back and forth. Enter any URL Into the form below and press "Shorten It". This will generate a very small URL for you. Enter any URL and try for yourself!
W3t
Example Short URL: http://w3t.org/c/site4sites
Make any web address smaller to use in your blog, journal, forum, or email. Includes a Firefox extention to automate the process.
Moourl
Example Short URL: http://moourl.com/udh25
Welcome to the web's cutest URL shortening service. If you have a really loooong URL, just paste it in the text field below, and we'll milk it, creating a moourl for you. It lasts forever, It's automatically copied to your clipboard, and It's really cute.
Thinfi
Example Short URL: http://thinfi.com/0az
With thinfi you can convert a long tricky url into a short and simple one. You may be aware of the existence of several similar sites and therefor I have created something new. With thinfi you can convert Internationalized Domain Names and also add password protection to all your links.
Sh0rt
Example Short URL: http://www.sh0rt.com/BVLQA/
With this free service, you can shorten long URL's. This site will not use any ads in your re-direction, EVER.
Other Services
Huge URL
A parody website to all of the above services. Create URL's that are huge. Because bigger is better, right?
LinkNark
Use NickNark to uncover the URL behind any of the URL's created by one of the services listed above. This can be useful if you don't trust the short URL, hiding the real URL.
Titanurl
Use NickNark to uncover the URL behind any of the URL's created by one of the services listed above. This can be useful if you don't trust the short URL, hiding the real URL.
LongUrl
Expand short URLs on any webpage with the LongURL Mobile Expander.
Shorttext
shortText is a simple tool to post text online, with minimum fuss. No sign ups, no sign in, just instant web presence for your information. shortText now supports direct linking to your images and video. Twitzer is a Firefox Extension which lets you post text more than 140 characters.
Tinypaste
TinyPaste is a service that lets you take large amounts of text and put it all in one place, and then gives you a tiny url to share it with your friends.
Do you know more services that can make a huge URL short? Send those links to me through E-Mail and I'll add them to this article.
---

Share And Enjoy:These icons link to social bookmarking sites where readers can share and discover new web pages.


Copyright 2008