20 Proxy sites 2 browse net anonymously
---
Home
WebLinks
Gadgets
Mini Softwares
E books & Photos
Score
Search
Radio
Flight
Mp3
Short Urls
1MB Tools
Stock
Quick Random Tips
---
There are several reasons why you want to browse the internet anonymously. The most common reason is that when you're browsing the net, you'll leave a calling card on every website where you're from, what webbrowser you're using, what computer you use and more details. For some people this is reason enough to browse the internet hidden under a proxy. These servers will hide your details so that you'll be sure nobody will find out who you are. Additionally, these sites can be used to unblock sites such as MySpace, YouTube and other sites that are blocked on your work / school.
When you use a proxy, the request of the website will not be send to the website directly, but to the proxy. This request is the one with your personal information. The proxy sends your request to the website you want to view, but now uses the information of that proxy server. This simply means that you'll not be directly connected to the website, but the proxy site is. This extra step will make the browsing go slower, but that's all it takes to browse anonymously.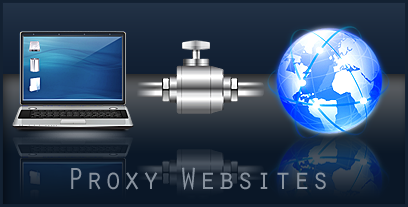 Here's a list of websites where you can enter an URL to browse the internet hidden under a proxy. Don't abuse these websites. For example, even if you're under a proxy, clicking links on Google Ads on your webpage will not help and is strictly against their TOS.
Proxy site list (Random order)
Web Based Proxy List
Web-based Proxies List
Of course you can post other sites that you know, Please Send it to my E-Mail.
---

Copyright 2009